Author:
Attacat Joel
So you've been hiding under a rock all month and want the full low down on Google+? Look no further, the social media news roundup is here!
Google+ aims to kick Facebook off its perch
Well this is the biggie – after making it possible in May for +1 buttons to be added to your site to calls of "Eh? What does +1 mean?", it all becomes very clear with the launch of Google+ – Full article – the search giant's rival to Facebook and their next foray into social media following the debacle that was Google Buzz. Everyone's been giving their initial opinions, and here's one in-depth effort from TechCrunch. Full article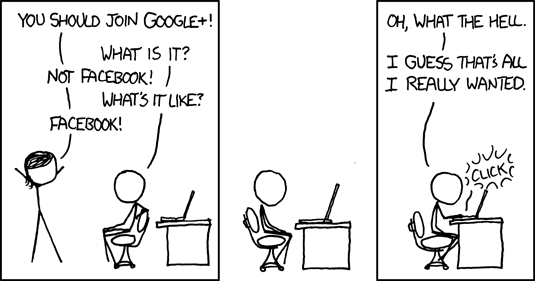 Kissing couple go viral
There's was some fisty-cuffs in Toronto following a match of some silly American sport, but emerging from the chaos was a picture that went global and started a brief Internet meme . Full article
Want a fair constitution? Ask everybody!
Iceland took a brave step in the construction of their constitution by putting it online and opening it up for crowdsourcing comments. Full article
Facebook knows your face
Bit creepy this one, but Facebook are now using facial recognition technology to suggest who should be tagged in uploaded photos, and there's been a fair amount of negative reaction to the decision to make this a default setting. Full article
"It's the police, stop updating your Facebook status!"
An armed man involved in a standoff with SWAT police decided to kill that always-dull 'waiting for the building to be stormed' time by updating his status on Facebook. Full article
Other than that it's pretty quiet on the social media front…here's looking forward to July!
Tags: Facebook, Google, Social Media